7. Interface Connections
Audio interfaces can come with a range of different analogue and digital connections:
Digital Connections
S/PDIF
(Sony/Philips Digital InterFace developed by both companies during the creation of the CD) A widespread format, available both optically over fibre-optic cables, and electrically over coaxial cables, - two channels up to 24bit/192kHz resolution. Encoded 5.1 Surround Sound can also be transferred via S/PDIF.


AES/EBU

(Audio Engineering Society/European Broadcasting Union - the organisations who set this standard) The professional alternative to S/PDIF, this is usually transferred electrically over balanced cables (XLR), or sometimes via coaxial cable. Higher levels and stricter specifications mean that very long distances are possible. Each connection contains two channels of up to 24bit/192kHz.

ADAT
(Alesis Digital Audio Tape) Originally the name of the 8-channel digital recorders from Alesis which featured this connection, but now reinvented purely as an interface. It can transfer 8 channels in up to 24bit/48kHz over an individual optical cable. In the S/MUX mode (Sample Multiplexing), channels of a higher sampling rate can transferred by sharing cables, which leads to either 4 channels per connection with 96kHz or 2 channels with 192kHz.

TDIF
(Tascam Digital Interface) Tascam's alternative to the Alesis interface which is featured on their own multi-channel interfaces - transfers 8 channels of up to 24bit/96kHz.

Word Clock
Transfers no audio data, but carries the clock pulse of the digital interfaces, which in larger setups is essential.

mLAN
(Music local Area Network) A digital system for the cross-linking of most different audio devices developed by Yamaha, which transfers both audio and MIDI and also offers control functions.

MIDI
(Musical Instrument Digital Interface). This is not an audio connection. MIDI transfers control information from keyboards and other MIDI devices.

Analogue Connections
Line Inputs/Outputs
Appropriate for the connection of devices such as synthesizers, mixers, CD players. Line exists with different level interpretations (typically - 10dB for consumer devices and +4dB for professional studio equipment) and with balanced or unbalanced signal routing. The common connectors used are phono/RCA (unbalanced), jack (balanced or unbalanced) and XLR (balanced).

Mic Inputs
The input signal routes to an integrated pre-amplifier, which makes the connection of microphones possible, and accepts far smaller levels than Line. Microphone sockets can vary but the most common is XLR - look out for phantom power which is required to use most higher quality microphones.

Instrument Inputs
Inputs with high impedance needed for the direct connection of electric guitars and basses.

Phono Inputs
Offers a level and preset EQ that meets the RIAA standard for the connection of record players.

'Phones Outputs
For the direct connection of headphones without needing an external auxiliary amplifier.

Inserts
Stereo jack connections that are wired so a signal can be sent to, and returned from, an external signal processor (e.g. a compressor/limiter). These are situated after the mic/line inputs in the audio chain, but before the analogue-digital converter.
Standard Stuff
Most audio interfaces have similar sets of connections for recording and playback, varying more in quantity than type, and most will also have S/PDIF and MIDI, but only the more professional models will have WordClock or ADAT I/O.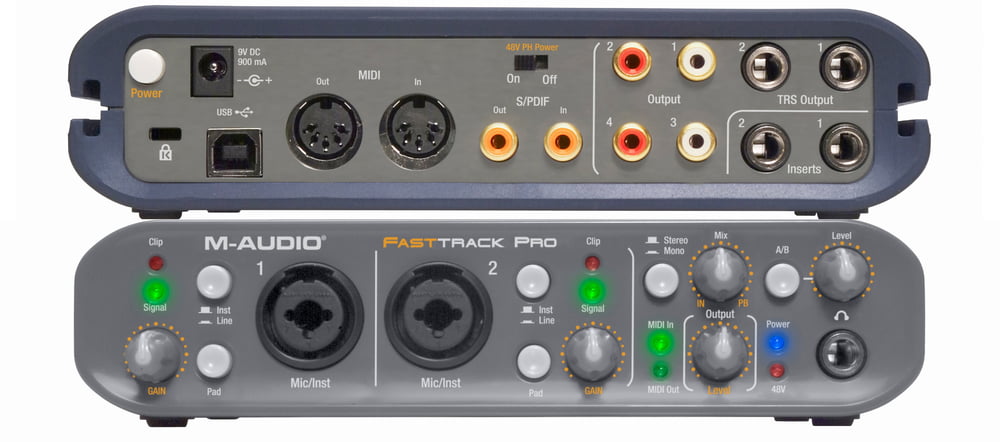 Specialised Gear
Beyond the usual connections, some audio interfaces offer special functions. Examples are internal mixers, which are useful for routing and monitoring, bypassing the software and any additional latency that may cause, and on-board DSP (Digital Signal Processing) which provides processing power for effects, independent of the computer and not subject to latency.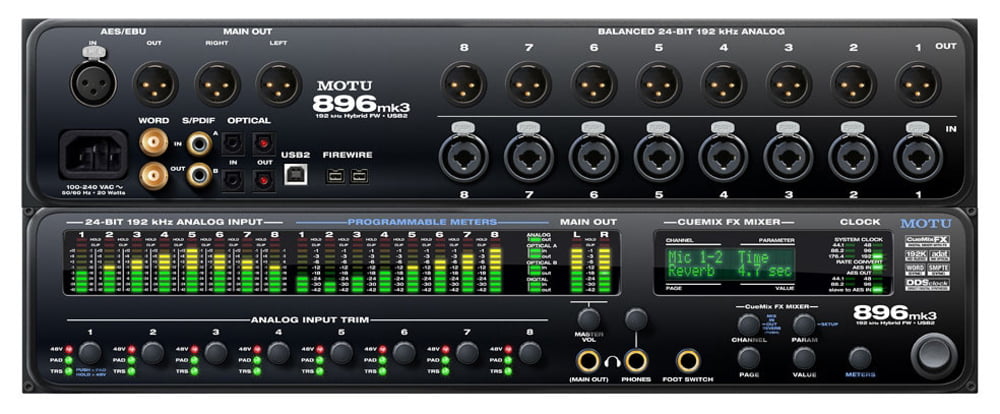 Os melhores produtos relacionados
Os produtos mais populares