2. Sound Sources & Signal Paths
You have to begin with the source of the sound - the instruments, voices and other devices that you want to present in an authentic and balanced mix to the audience out there in the arena. The great advantage of a using a PA is the ability it gives you to balance sounds that might otherwise drown each other out. You can have a brass section vamping away, an acoustic guitar filling out the sound, and a drummer thrashing out the beat, while still delivering loud and clear vocals. Better still, you can enrich each part with effects, dynamics processing and equalisation to achieve a front-line sound designed to make the most of the acoustics of the room.
When broken down, PA technology is about sound transformation and re-transformation. You collect the sound at the source, and deliver it to the audience in as close a rendition of the original as possible. We're going to consider each stage in turn:
The signal path of a typical small PA system: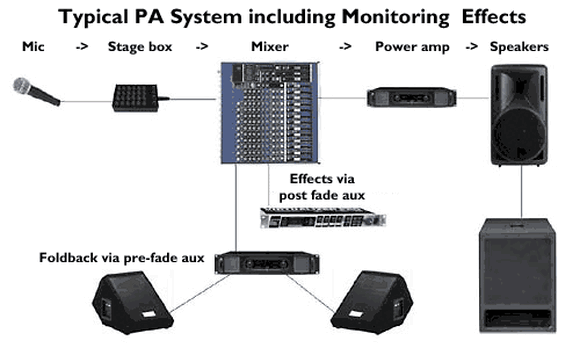 Sound transformation
Firstly, the original sound is changed into an electrical signal, usually via a microphone. Note however, that although keyboards and bass guitars have electrical outputs, they are usually connected to the PA system via a DI box (Direct Injection) which amplifies the signal and 'balances' it to protect it from interference - see our separate guide on this subject.

Cables
The sound signal must then be carried to the mixing and amplification systems. Usually, shielded cables are used to protect against interference, though wireless systems are becoming ever more popular.

Mixing and processing
The whole sound is balanced at the mixing desk, and any effects required are also added. The desk will incorporate different input types to accommodate different types of signal, such as those coming from microphones and those that are 'directly' connected.

Reinforcement
From the mixer, the sound is carried to the amplifier, sometimes known as the output stage. This is where the sound is made loud enough to fill the room comfortably without distortion. Smaller Pas sometimes combine the mixer and the amplifier into a single unit, although increasingly these days, amps are built into speakers.

Transformation - again...
The final crucial stage is the change back to an acoustic signal. This is the task of the speakers, which receive the electrical signal from the amplifier and deliver it as waves of audible sound.
Os melhores produtos relacionados
Os produtos mais populares