3. How it works and how it is played
The tuba can be played sitting down, standing up or, if you prefer, lying down.
However, since the tuba is an instrument weighing some eight kilos, sitting down while playing is probably the most comfortable choice. Depending on the size of the player, the tuba can then rest on the player's leg, the chair, or even a special stand. When walking or marching, the tube can be held up with the aid of a shoulder or back strap.
Tubas may have three to six valves, and some have additional valves to allow for accurate tuning. As a rule, they are played with the fingers of the right hand. All other valves can be ordered in any way the tuba player desires. Valves are also available as thumb valves, so that fifth valve can be, for example depressed with the right thumb (usually designated as 4-1). A further variation is the 4+2, which features four valves on the right which are operated with the right hand, and 2 further valves on the left, which are operated with the left hand.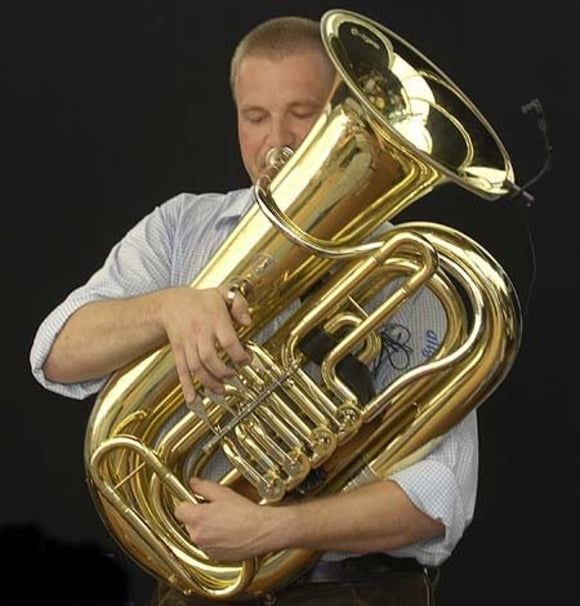 Independent of their pitch, the fingering for tubas generally corresponds to that of related brass wind instruments such as the trumpet. Starting with the tuba's general pitch, lower notes are played by depressing the valves. Pressing a valve adds length to the tube; this length varies from valve to valve. The first valve generally lowers the tone by a whole tone, the second by a half tone, the third by one and a half tones, and the fourth by two and a half tones. There may be additional compensating valves to allow for more comfortable fingering; they often use extended half or whole tones. Depending on the instrument's construction type, the bell points to the right, the left, or forwards from the player.
To generate the sound of the tuba, the human body is necessary as a generator of vibration. The vibration of the lips in the cup-shaped mouthpiece and the air blown into the instrument simultaneously generate the sound. The instrument, whose resonance is required, amplifies the sound. The frequency of the lip vibration determines the pitch, the airflow the volume of the sound. This is something the tuba shares with all other brass wind instruments - it just sounds better.
Os melhores produtos relacionados
Os produtos mais populares