5. About the Strings
The strings of a stringed instrument are as important to the sound as any other part of the instrument. Sound generation begins with them, when played they vibrate, and these vibrations are transmitted to the sound box. The initially very quiet tone is amplified and radiates outwards. In practice the process is a but more complicated, the vibrations are transmitted to the ceiling via the bridge, distributed over the sound post to the entire body and over the ceiling with the help of the bass beam. Ultimately, not only the body, but also the fingerboard, the neck, the vertebrae and the tailpiece resonate. As such they can all positively, or negatively, influence one another.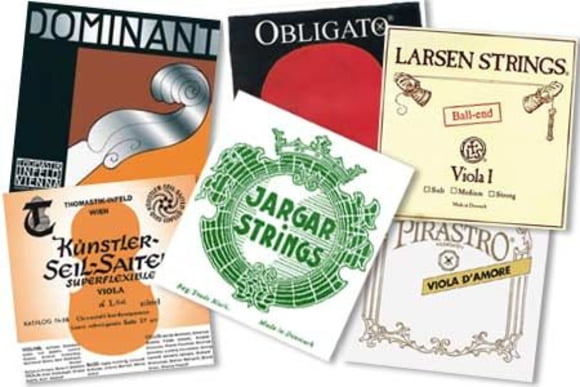 You can divide strings into three larger groups based on the material used in the core of the string. These are gut strings, plastic strings and steel strings. Each of which has many variations, these will be discussed more below. But the most pressing question: Which string is right for my instrument? Is a bit harder to answer. The selection has become immensely large, new strings are continually coming onto the market, either as variations of well-known string types for specific requirements or as completely new string types. This guide should help shine some light on the subject but it goes without saying that it is not definitive. Each string instrument is unique in its resonant behavior and sometimes you just have to try a new set of strings to know how they'll sound. However, there are certain characteristics of the various types of strings, which can be used to guide you in your search.
Gut Strings
Traditionally strings for cellos and other string instruments were made from the intestines of ungulates (animals with hooves), mostly sheep from barren and dry areas. The intestines were cut into strings, spun, dried and finally polished. These bare gut strings still exist today but are only used for the stringing of historical baroque instruments and for the authentic performance practice "Alter Musik". Gut strings on the standard market today are wound in metal as previously mentioned. Winding the core of the string increases its mass, making the string heavier and deeper sounding. Without this, the string would have to be much thicker for certain pitches. To put it another way: Wrapping the strings allows them to be much thinner, without affecting elasticity or playability. The type of wrap also significantly affects the sound properties (see below).
Gut strings generally have a relatively soft and warm sound, but are very susceptible to changes in temperature and humidity. They have the habit of pulling water from the air and will start to swell, causing reduced tension. The break-in period, that is the time it takes for the strings to hold the tone, can take one to three days. Their playing life is also limited, professionals may change their strings every one to two months, but for normal players they last about a year. But gut strings have a powerful tone, are pleasant to the touch, have a higher natural elasticity and are more responsive. They are usually wrapped in aluminum or silver and, as with the other types of strings, there are different strengths, e.g. "soft, medium, strong" or "dolce, medium, forte".
Strings with a Plastic Core
The term 'plastic strings' is a bit misleading because bare plastic strings are not used for the string instruments like cellos. Purely synthetic strings are used to string instruments like the classical guitar and ukulele. Like gut strings, the plastic here refers to the core which is then wrapped with a metal. Several different materials may be used for this, and, similar to gut strings, this affects the thickness of the string and its sound properties. For example, silver is usually used for the lower strings as they have a stronger and warmer tone. But there are also differences in the plastic core itself, it may be made from nylon, perlon or polyester, to name a few. A plastic string has similarities to a gut string as far as tone and performance (though they never quite have the specific characteristics associated with the natural material). But strings with a plastic core have come far enough that they are used by both beginners and virtuosos. They are also ideal for a wide variety of music styles and offer a number of advantages over gut strings: they keep their tone very well and are not affected by temperature and humidity changes. They have a sound that is usually described as round, clear, soft and having rich overtones. From a fingering standpoint they are relatively soft and sound modulation is relatively easy. The break-in time varies and depends entirely on the string type.
Steel Strings
Steel strings are more well known in the world of 'plucked' instruments like guitars and harps. Often they carry a negative connotation when discussed by strings musicians, which is earned in some senses, but not always the case. Steel strings have the habit, which is sought after in other areas, of producing sound for a long period. This is exactly what you want to prevent in a string instrument though and is why cheaper steel strings tend to have an unpleasant metal tone. The reverberation of the strings can be suppressed by damping the steel core achieved either by wrapping them with a metal wire or by adding a layer of braided silk or plastic threads. The raw material of the steel string core consists of a special crucible cast steel, which is drawn over dies and drawing diamonds to produce a thinner and thinner cord. The first steel strings used in the world of violins was for a bare E-string. Acceptance was easier to achieve here as there were always problems with the thin E-gut-strings tearing. With time a steel e-string became standard, even being sold in a set with gut strings. However, e-strings can also have a wrap, making them a bit more comfortable to grip and sometimes used to make them match the rest of the strings. The biggest advantage of steel strings is tone stability and long life.
Steel strings are also very popular for beginners and for teaching. They are characterized by a powerful sound which unfortunately sounds rather hard and metallic in the cheaper models. Simple and inexpensive steel strings have a full steel core, while the higher quality strings have a wound steel (cable) or fine steel core. Wound steel core strings are powerful, soft, and sonorous in tone, and are often used on the viola and cello. Fine wire steel core strings are a bit softer and thus more tangible, and with their powerful, round and balanced sound, they are able to meet higher standards.
Different Strengths
Strings are offered in different strengths, although the strengths of different manufacturers are not necessarily comparable. Common names for the strengths are: "soft, medium, strong", "dolce, medium, forte" or "light, medium, heavy". A thin string is closest to the 'ideal' string from a vibrational standpoint. They have a good tone and very rich overtones, but the volume of the sound produced is rather low due to the low mass. For a stronger string, the tone may be worse but the sound is fuller. Stronger strings are recommended for instruments with a lower bridge, with thicker walls and for those that have a high ceiling curvature. You can test this out with the strings that are set up on the instrument by down tuning a bit. If you like the sound better then you can put thinner or lighter strings on. If not then stronger strings will probably sound better. If you don't have a clear idea of what sound is needed yet then just go with medium strength strings.
Wrapping
Finally, a few words about the metal wound around the core of string, that is the wrapping. Wrapping increases the mass and the higher the mass, the deeper the string sounds. Without wrapping it would be nearly impossible to make the thick, heavy strings needed for larger instruments. The wrapping can be made up of one or more layers of round or flat wire. A variety of different metals are used including steel, chrome steel, tungsten, silver, aluminum and titanium. If using round wire, the string will be sanded after being wound. In addition there is usually an intermediate layer of braided silk or plastic threads between the core and wrapping. This helps the wrapping to hold better and the core receives a form of internal damping. With aluminum, which is very light, you can make very thick strings which are relatively inexpensive but have the disadvantage of blackening fingers (sweat is acidic!) and otherwise wearing out quickly. Aluminum sounds bright and is more likely to be used on the higher strings. Silver is heavier, meaning strings made with it are thin and more especially suitable for the fourth string. Silver is only used for the upper cover layer and is often mixed with nickel. Titanium is an expensive, lightweight metal that is mainly used for the thinnest string. The disadvantage is that it causes higher wear on the instrument and causes the ligaments of the bow to loosen as well. Gold is a very resistant metal and as a thin layer it can protect against hand sweat. but because of the high price gold is only used on violin strings. Tungsten is more or less neutral but allows for thinner strings due to its weight. If chromium is used it is usually as an alloy (chrome steel). Nickel in pure form is rarely used in stringed instruments, but is often found alloys as mentioned. So if you have a nickel allergy you should look for strings specifically labeled as 'nickel free'.
Os melhores produtos relacionados
Os produtos mais populares