Xaphoon Maui C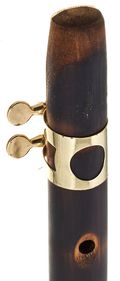 Informações & Descontos de quantidade

Número de artigo: 114669
Este produto encontra-se em stock e pode ser enviado imediatamente.

Número de artigo: 114669
Unidade de venda: 1 peça
Disponível desde: 18.05.2007
Material: Bamboo
Colour: Stained
Double Holes: No
Keys: No
Descontos de quantidade
| Unidade de venda | Preço por unidade | Poupança |
| --- | --- | --- |
| | € 92,00 | |
| | € 89,00 | 3,26 % |
| | € 86,00 | 6,52 % |
Detalhes do produto
Maui Xaphoon in C
The MAUI XAPHOON C is the original Xaphoon and the first patented instrument of its kind. Each instrument has been built by its inventor Brian "Papa B." Wittman in his small workshop in Hawaii.
We especially recommend C XAPHOON for the interplay with string and keyboard instruments, C or F-flute. The C Xaphoons are somewhat shorter than the B ones, which for smaller hands is an advantage. The blowing force is sufficient already for 2-3 years old children, however, primarily due to the finger size, our experience shows that the standard XAPHOON can be well teached to children from 6 years. On this instrument C - / F - / B major and A - / D - / G - minor are the easiest to play.
The MAUI XAPHOON compared to the CLASSIC XAPHOON is more individual, as the bamboo material it is made of. The mood is indeed the same but the tones are quite different.So at times it resembles slightly more to the clarinet and times stronger towards saxophone. The sound is natural, perhaps a little warmer than the CLASSIC XAPHOONS.
Pocket sax
Lowest note C'
Tonal range: 2 Octaves
a' = 440 Hz
Made of bamboo
Handmade
To play with a tenor saxophone reed
Produtos relacionados