Fender Squier SA-105CE NA Bundle 2
Country
Country Pickup
Picking
Picking Pickup
Strumming
Strumming Pickup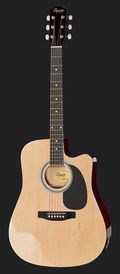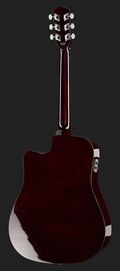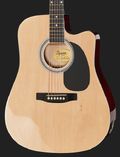 Acest produs e disponibil în stoc și poate fi expediat imediat.

cod articol: 273332
unități de vânzare: 1 bucată
Disponibil din: 08.11.2011
Prețurile în RON sunt doar orientative.
Detalii produs
Bundle offer comprising
Fender Squier SA-105CE NA
Western guitar
Dreadnought
With Cutaway
Laminated spruce top
Back and sides: Laminated nato
Neck: Nato
Fretboard: Painted maple
20 Frets
Painted maple bridge with compensated saddle
Die-cast tuners
Scale: 643 mm
Nut width: 43 mm
Fishman Isys-T pickup system with onboard tuner
Colour: Natural
Thomann Western Guitar Case
Guitar Case for Western Guitars
Considering the low cost, this case offers great protection and space for many of the most common western guitar designs. The textured plastic coating is tough and reinforcement at the corners provides added protection and stability. Inside there is also space for replacement strings and sheet music.
Also for super shallow- and contour bowl / roundback guitars
Inner dimensions (L x W x H): Approx. 106 x 42.5 x 15.5 cm
Weight: Approx. 5 kg
Harley Benton MT100
A clip-on tuner for all circumstances with 3 selectable tuning modes: Chromatic, violin and guitar; in chromatic mode C, F, Eb or Bb can also be adjusted. Each tuning can also be changed to 4 semitones down, covering practically everything from what creative guitarists or hotspur youngsters would need. A large backlit display allows the user to handle it also the darkest stages; it is tuned by a built-in microphone and vibration sensor.
Practical and versatile for a great value!
Attachable
With integrated metronome
Built-in microphone and vibrations sensor
Large, adjustable and illuminated display
Calibration: 430 - 450 Hz
3 Tuning modes (chromatic, guitar & bass, violin)
Tunings: C, F, Eb, BB (in chromatic mode)
Flat tuning with 4 semitones
Range of A0 (27.5 Hz) up C8 (4186.0 Hz)
Accuracy: +-1 cent
Metronome function of 30 - 250 bpm
Automatic shutdown
Including battery (CR2032 (3V)
Harley Benton Coated Phosphor 012 Anti Rust
String Set for Steel-string Guitars
Phosphor bronze
Coated rustproof
Hexagonal core made of steel
Gauges: 012, 016, 024, 032, 042, 053
the sssnake IPP1060
Instrument Cable
Both sides: 6.3 mm mono jack
Length: 6 m
0.22 mm² / AWG 24
Outer diameter: 6.0 mm
Very good quality
Colour: Black
Harley Benton Nylon Player Pick Set Mixed
Pick Set
With 12 pieces
Nylon
Various thickness: 2 pieces each of 0.46 mm, 0.71 mm, 0.81 mm, 0.96 mm, 1.2 mm, 1.5 mm
39 Recenzii
Produse similare