7. Pickups
Microphone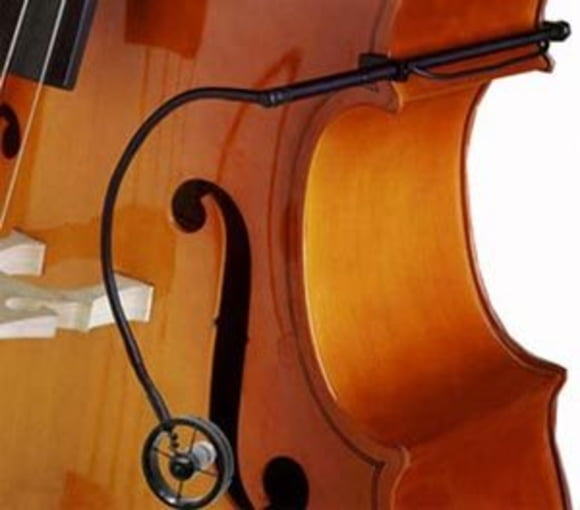 Like all other acoustic instruments it is possible to use a cello with an amplifier and one or more microphones. Generally you'll need a high quality mic for this (check out the online guid for microphones). There are, for example, specialized pickup systems which have very small closed microphones that aren't recognizable as such from the outside (see below: Schertler Converter). Some more basic pickups especially on the cheaper side contain crystal microphones, which which can be attached to the instrument with a suction cup.
As with all microphone systems, it should be noted that all sounds and noises are recorded and amplified, not just the noise of the instrument itself but also the ambient noise present in the environment. This means there is a risk of feedback, even if a band stop filter (available in good quality pickups designed for acoustic instruments) is present to filter frequencies which are particularly prone to feedback.
Transducers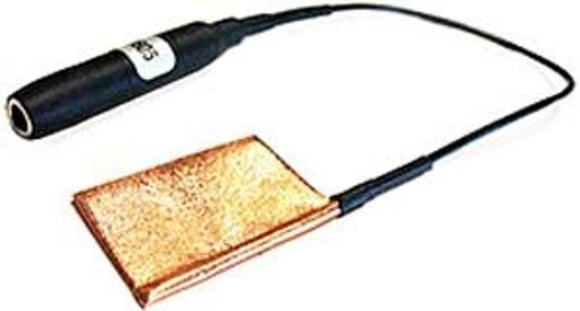 A transducer is something that converts one type of energy into another. In the case of pickup systems in the music sector, it is the conversion of mechanical vibrations into electrical voltage, which is then amplified into an acoustic signal. The most often and widely produced of these are the piezo systems, which use the piezo electronic effect: Mechanical pressure on a specific crystals is translated into an electronic load. Special piezo ceramics were developed for this purpose that are hard, stable and convert the mechanical vibrations into electrical voltage. Due to the high output voltage, these pickups can be used without a preamplifier but due to their high sensitivity they are also susceptible to interference. Piezo elements also have a special crystal structure, which is irreversibly lost at higher temperatures (sometimes as low as 50° C). So you should avoid leaving them in a car on a hot summers day....
In music there are not only piezo ceramics but also piezo films or foils. These are very thin and do not react to pressure, but to longitudinal movements. The output voltage is very low, requiring high-quality shielding and a preamplifier to operate.
NFX (Nanoflex)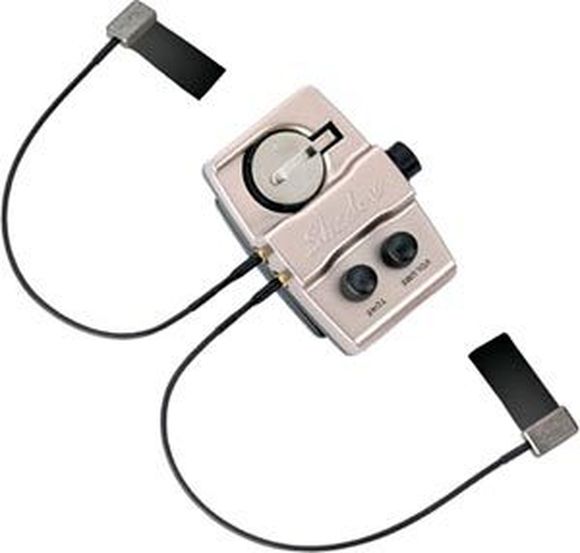 Also important in the world of acoustic pickups are NFX-foil pickups. They are very thin, consist of up to 7 foil layers and can be used flexibly on the surface of the instrument, hence the name Nanoflex (NFX). They are active pickups which detect both the vibrations of the entire body (bridge included) and the vibrations of the strings. The pickup is also 100% shielded, keeping them free from annoying interference. The sound is described as very pure and natural.
Schertler Converter"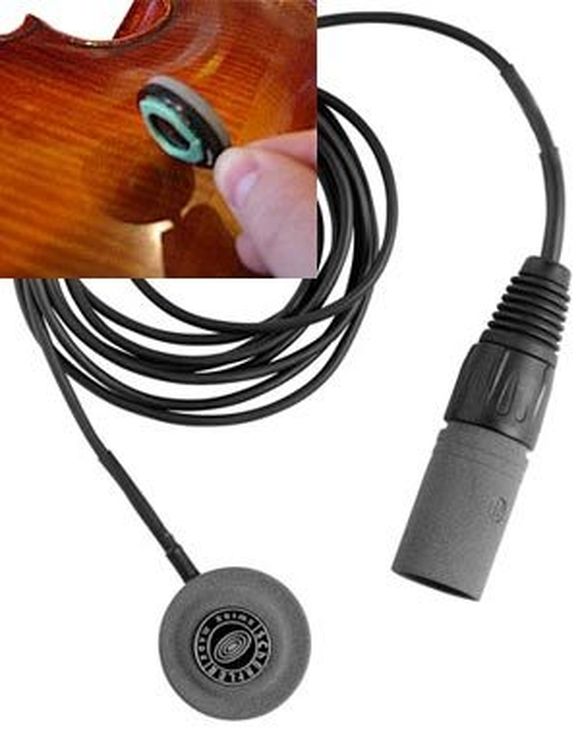 As an alternative to piezo technology there are the pickups from the company Schertler, which look like piezo pickups from the outside but are actually closed microphones equipped with a pre-amp. They are available in electrostatic and electrodynamic versions, with the electrodynamic version being used in the orchestra and broadcast sectors. They are said to have a very natural sound.
Mounting options for contact pickups
Transducers for string instruments are usually round discs (the actual sensors) and are attached to the instrument either with adhesive tape or with modeling clay (a special putty). The thin foil versions are often placed under the bridge feet. Transducers also have single and twin models (Singleducer and Twinducer) and in some systems the transducers are allowed to float between the bridge and the tail pice. The goal is always to absorb desired vibrations and to exclude other interference.
Preamps and other components
Preamplifiers have an input for the transducer (or microphone) and an output jack for the cable to the amplifier. The power is supplied by a small battery and often these units have a master volume control and a fader.
Cele mai apreciate produse
Cele mai populare produse