3. What type of guitar do I need?
It's not easy to answer this question!
Choosing the right guitar pretty much depends on the musical style you're interested in. You will encounter musicians everywhere who prefer unusual guitars which may even appear to be unsuitable for their musical style. You should, however, put aside the theory that every guitar has a single exact application in the first place.When the Fender Telecaster (its forerunner went by the name of 'Broadcaster') began to attract guitar-players in the 50s, it immediately became the guitar-of-choice for country guitarists. Today things haven't really changed in that respect although there are now plenty of guitar models to be seen under cowboy hats. Stratocasters are highly popular, especially among modern country interpreters (new country, country rock), but different types that actually don't go with the typical trebly 'twangy' clean country-guitar sound also show up.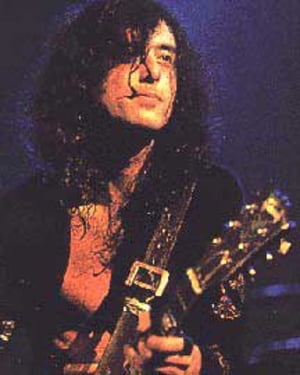 To pigeonhole the Telecaster because of its background would make no sense nowadays. Status Quo, for example, have been rocking away for more than 30 years using two Teles and, Led Zeppelin's guitar-whiz, Jimmy Page, of all people, who has always been associated with the Les Paul, played lots of tracks with a Tele including the entire Led Zeppelin debut LP and the legendary guitar solo on Stairway to Heaven. Whatever he plays though, he always sounds like Jimmy Page and nothing like a country guitarist.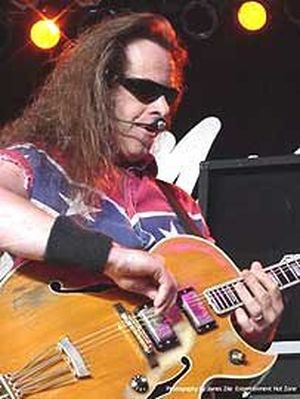 American hardrocker Ted Nugent played a Gibson Birdland (fullbody!) on most of his records and tours – to date it's a well kept secret exactly how he managed to stop his guitar from drowning in feedback while standing in front of all those full-blast amps which delivered the characteristic Nugent Sound.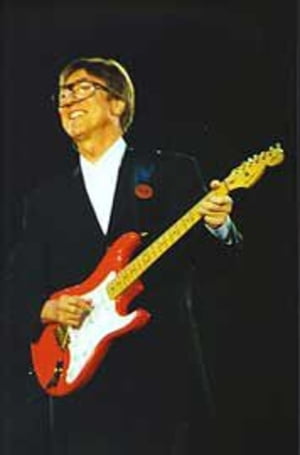 When the Stratocaster began its triumphant rise to success in the 50s, it was the clean and crisp sound that made it popular. The Shadows' guitarist, Hank Marvin, made this a unique stylistic device. Later on in the 60s Jimi Hendrix made guitar-history with a Stratocaster by making it sound completely different, as we all know, and the Strat suddenly became the must have for rock and blues sounds.
Of course we can point to particular trends and it's certainly no coincidence that certain guitars appear more frequently in more diverse music genres than others. Generally speaking, there's an exception to every rule and the guitarist's own personal taste, skills and the available technical possibilities that make a guitar sound the way it does.
In most cases it doesn't make any sense to copy your guitar-hero's setup. To start with the sound pretty much depends on the player and secondly, the chances are that the star's choice isn't right for you at all (added to which, it isn't really that interesting to listen to exact copies of stars all the time!).
This takes us onto the next crucial point: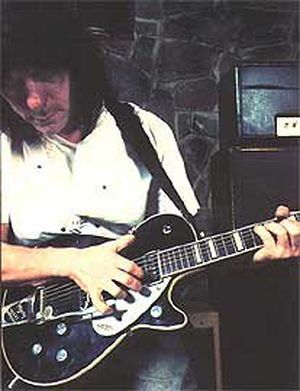 Not every guitar is suited to every guitarist: Some guitars are comfortable from the moment you pick them up for the first time, while others still feel strange and uncomfortable after months. The design of a guitar can influence posture and way of playing: a Stratocaster or Telecaster requires more strength than guitars with the shorter Gibson scale with the same string gauge. This has to do with the longer measure and higher tension of the strings and makes another important aspect to the typical sound of these guitars.Many guitarists love to fight with their guitars. As Jeff Beck often points out, the neck of his Strat should feel as chunky as a Neanderthal's club – yep, the thickness of the guitar neck influences the sound and sustain! Other guitarists (Mick Taylor, Jimmy Page, Slash) just love the convenient flat and wide neck of older Les Paul models.
Our internet customers can avoid making the purchase of a guitar a lottery – together with our online-consultants, we offer a 14 day return option and even a 30 day money back guarantee on our Hot Deals. You don't purchase a new guitar every day and we make the return of an unwanted instrument and your money back as trouble-free as possible.
Not every guitar suits the personal sound requirements of a musician. To make a simple example: if I want a typical trebly country sound and I pick a Les Paul, I'm going to be wide off the mark! A Telecaster or a Stratocaster would be the weapon of choice here.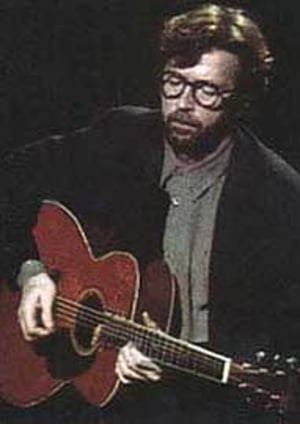 Many superstars lumber more guitars around on tour than they have songs on their set lists. For their comeback tour, The Eagles' equipment (granted they are three fulltime guitarists and a bass player) could easily have filled two mid-sized music shops, whereas many other guitarists will prove that just one guitar can rock an entire show. While some guitarists will only allow a Les Paul to hit the jack (Mick Taylor, Snowy White), others will stick by their Stratocasters (Jeff Beck, Steve Ray, Jimmy Vaughn, Mike Landau, Ritchie Blackmore, Eric Clapton). Michael and Rudolf Schenker prefer the more rare Flying V whilst others (Eddie Van Halen, Steve Morse, Steve Lukather, Robben Ford) simply have their guitars custom made for them. Of course, most of them have also played other instruments during their careers but, on the whole they have stuck to those instruments mentioned above.
Writing about sounds is difficult because the characteristic nuances are difficult to describe in words. Over the next two chapters, however, we will attempt to provide a sound description and a few typical (but not obligatory) fields of application, along with the most important different guitar makes.
Cele mai apreciate produse
Cele mai populare produse