Protec iPac 301D Double Trumpet Case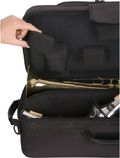 Acest produs e disponibil în stoc și poate fi expediat imediat.

cod articol: 208606
unități de vânzare: 1 bucată
Disponibil din: 13.06.2008
Multi Equipment Case: Yes
Type: Case
Backpack Strap: No
Material: fabric of synthetic fibre
Type: perinet
Prețurile în RON sunt doar orientative.
Detalii produs
Double Case
For two trumpets
Very lightweight
Removable inner foam blocks to ensure a perfect fit for the instruments
Large outer pocket
Dimensions (H x W x D): 57 x 27 x 24 cm
Colour: Black
With the optionally available backpack straps (Art. no. :#169798#) this item can also be used as a backpack!
Produse similare