Stairville DMX-Master 3 - FX MH Bundle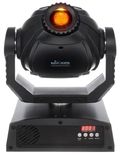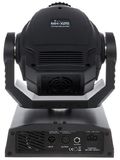 739 €
3.601,47 RON
include TVA · Transport Gratuit
Livrare aprox. între

Luni, 25.01.

și

Marţi, 26.01.
Acest produs e disponibil în stoc și poate fi expediat imediat.

cod articol: 313825
unități de vânzare: 1 bucată
Disponibil din: 19.04.2013
Prețurile în RON sunt doar orientative.
Detalii produs
Bundle offer comprising
2x Stairville MH-X25 LED Spot Moving Head
Bright, small, light and efficient - these are the highlights of the new Stairville LED Moving Head MH-X25. Thanks to an extremely bright 25W high-power LED the MH-X25 LED is well in the running with the 150-HTI side of life.
The MH-X25 is fitted out with a colour wheel (8x colours and white ), a gobo wheel with 7x rotating gobos plus open shutter up to 13 Hz and dimmer (0-100%), this allows the MH-X25 to have all the features a moving head of nowadays should have.
PAN / TILT 8/16 bit - PAN max. 540 °, TILT max. 270 °
Automatic PAN / TILT correction
Control via DMX 512: 12 or 6 channels
Master / slave mode via integrated microphone
Colour wheel with 8 colours and white: 8 full-colour, 8-colour split colours, rainbow effect
Gobo wheel with 7x rotating gobos + open shutter: indicated and exchangeable, gobo shake function, gobo direction forwards and backwards
Shutter: 0-13 Hz
Beam angle: approx. 14°
Electronic dimmer: 0 - 100%
Power consumption: Max. 102 Watt, 230 V AC 60/50 Hz
Weight: 8.0 kg
Stairville DMX-Master 3 - FX
Light Mixer
256 Channel DMX Controller with Effect Generator
The DMX Master 3 is the newly developed version of the DMX Masters with all known functions and many extensions such as the effect generator.
The DMX controller can manage and drive up to 16 DMX devices (such as moving heads, scanners, etc.) with up to 16 channels each
With the newly developed effect generator amazing motion effects can be created within seconds (Circle, Triangle, Linear, Jump, Wild, etc.)
Features:
256 DMX Channels
Controls up to 16 DMX devices with 16 DMX channels
240 Scenes on 30 banks (8 scenes per bank)
6 Chasers with up to 250 steps (created from scenes)
6 "Overlay" scenes
Speed ​​and Fade time set for all programs and chasers
2 Encoder wheels for adjusting PAN and TILT
Configurable Blackout Master
"Overwrite" function for the Play Mode
All channels can be inverted
Freeze function (freezes the current DMX output)
"Sound to Light" music control via built-in microphone with adjustable filter
2 Different modes for MIDI synthesizer or 49 keys Midi keyboard
Midi controller and others for Play functions, Blackout, Overlays, Freeze, Auto Beat, Tap Sync, etc.
Adjustable Fade time function for each channel
Data backup via USB
Software update via USB
Incl. USB Stand Light
19" Rack mountable (plastic frame must be unscrewed)
Dimensions: 526 x 232 x 88 mm
Weight: 3.5 kg
2x the sssnake DMX-Cable 1000/3
Professional DMX Connector Cable
10m
XLR male - XLR female
110 Ohms
3 pin XLR
Black
With metal XLR connectors