DVD Lernkurs Tutorial Hands On Live Vol.1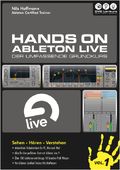 Info

artikelnummer: 195184
Produkten finns i lager och kan levereras omgående.

artikelnummer: 195184
Försäljningsenhet: 1 Styck
tillgänglig sedan: 04.07.2006
Content: Ableton Live
Language: German
Produktdetaljer
Video Tutorial for PC and Mac
The comprehensive Ableton Live course for Ableton Live 9. Certified Ableton coach, musician and DJ Nils Hoffmann provides all the basics for successful and creative work with Ableton Live. With more than 100 lessons and less than 10 hours of running time, this course is the most comprehensive learning medium for the perfect entry into the universe of Ableton Live! In addition to the basics for optimal operation and setup, working efficiently with audio and midi clips, the use of effects and instruments, the course also provides advanced functions, background knowledge as well as valuable tips and tricks on all subject areas.
Contents:
The versions of Live at a glance
Important presets
Working fields and overview
Working with the browser
Preview and import
Working with audio tracks
Starting quantization and start-up behaviour
Controlling clips via the computer keyboard
Tempo in session view and browser
Clip and device view
Individual inscriptions and colours
Adjusting the volume
Spotting functions
Metronome and audio recording
Working with MIDI tracks
MIDI basics
Creating and editing MIDI clips
Using the computer keyboard as a MIDI keyboard
The functions of the "Simpler" in detail
Working with effects
Change effects in the hot-swap
Effects on the Master track
Personal effect tracks
Possible applications for return lanes
Audio effect racks
Add to the arrangement
Editing and arranging in the arrangement
Using Automations
Follow actions
Envelopes
Warping audio clips
Multitrack recording
Advanced editing functions
MIDI recording and quantizing
Live via MIDI remote control
Impulse and the drum rack in detail
Many tips and tricks by experienced professionals
This is what the tutorial DVD for PC and Mac offers you:
Just about 10 hours of video lessons
Stunning sharp videos in full resolution
Integrated lesson descriptions
Set your own bookmarks
Full-screen mode and information on recent lessons
Search function to quickly find desired topics
Incl. Table of contents as a PDF-document available for printing
Incl. IPad version: With this course you also get a version of the tutorial for the Apple iPad - ideal for learning on the move!
System requirements:
Windows PC from 1.6 GHz, min. 512 MB of memory
Mac from OS 10.6.x, min. 512 MB of memory
Min. 1364 x 768 screen resolution
Sound card
DVD drive
79034
Försäljningsranking
Relaterade produkter