4. Anatomy of the Flute
The Flute is essentially a cylindrical tube made up of three parts - the 'headjoint', 'body', and 'footjoint'.

The headjoint is the part of the instrument that the player blows into to make the flute sound. It is a tapered tube of around 22cm in length, with a 'lip-plate' and 'riser' soldered onto it, and a 'head-cork' assembly that seals the tapered end of the tube. The hole that the player blows into is called the 'embouchure hole'. There are many critical angles inside the embouchure hole of the headjoint that can be varied by the maker to affect the dynamic and tonal capabilities of the whole instrument.
In order to make the flute sound, the player must blow a small yet focused jet of air at the riser on the front edge of the embouchure hole, which causes the airstream to split and vibrate.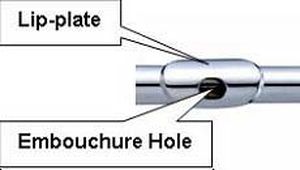 The length of the modern flute requires that a child reach a certain size before a comfortable playing position is attainable – this size is normally reached by the age of nine or ten. However, for smaller children, several manufacturers provide the option of a curved headjoint which shortens the distance between the embouchure hole and the first key of the mechanism from 23cm to 9cm, thereby lessening the uncomfortable stretch.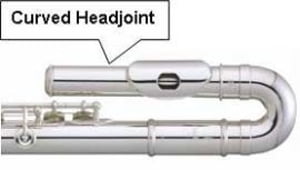 Mest populära produkterna