9. C Footjoint vs B Footjoint
The previous statement on open and closed holes was qualified by the word 'nearly' because of the issue of C footjoints and B footjoints. The former facilitates playing down to middle C, and the latter gives an extra semitone enabling a B to be produced. Again, this division is seen as largely dependant on the standard of the player - a flautist moving up from a closed-hole student instrument with a C footjoint, will usually move up to an open-holed instrument with a B footjoint.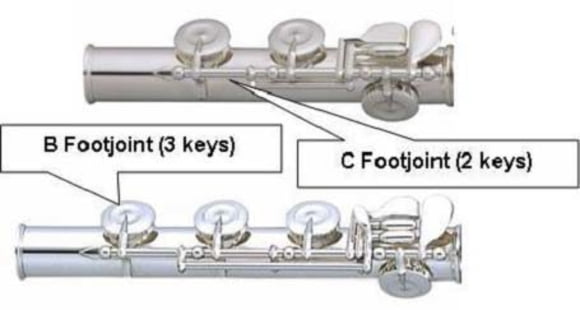 Again, simply put - a flute with both open holes and a B footjoint has the capability of playing everything that has ever been written for the instrument, whereas even a flute with open holes but with a C footjoint, does not. Furthermore, a B footjoint helps promote better playing - Middle C appears regularly in the flute repertoire, and is often a 'problem note' for aspiring young flautists to produce comfortably. In the same way that if one is used to running 10Km races and then runs half the distance, the 5Km race will seem much easier, if one is used to practicing tone exercises down to a low B, then playing the more common low C will be that much easier.
Mest populära produkterna