8. Open Holes vs Closed Holes
Boehm's original design was in fact a closed-hole instrument, but the players of the day, who were accustomed to playing flutes which were little more than wooden tubes with holes drilled in them, felt uncomfortable with the new design and wanted the familiarity of feeling holes under their fingers, so in 1860, the French flute maker Louis Lot began to make instruments with holes in the centres of the keys.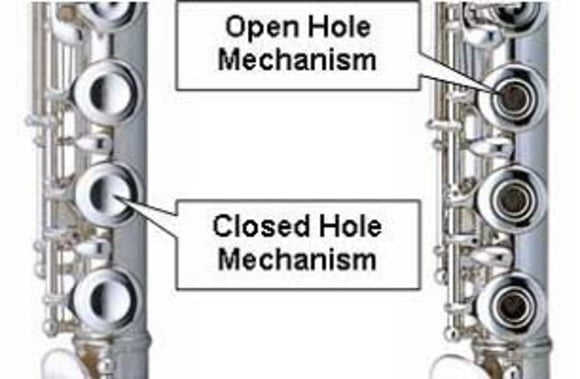 Although people who started learning the flute with Boehm's original closed-hole mechanism took to his new design readily as they had nothing to compare it with, and there was no need to have such a precise finger technique as with an open-hole instrument, the open-holed tradition has carried through to the present day. It is widely regarded that closed-hole flutes are more suitable for beginners and novices, whereas it's expected that more advanced players (ordinarily Grade 6 and above) will play open-holed flutes.
There are several benefits to playing open-holed flutes, especially the ability they give a player to feel the airstream vibrating under their fingers, confirming to them that they're producing a full and resonant sound. The holes also ensure that the player's fingers are curved and positioned correctly over the corresponding keys, thereby eliminating poor technique. Additionally, open holes are seen to be more aesthetically pleasing than closed-hole flutes, possibly due to the historical association, or to the feeling that open holes are perhaps 'more authentic' than their closed-hole counterparts.
Towards the end of the 20th century, open holes began to be utilised to produce a range of extended techniques such as note bending, finger vibrato and even glissandi, through the method of gradually covering and uncovering the holes. More and more music is being composed each year that requires the use of these techniques. Simply put, if you play an open-holed flute, you have the capability of playing (nearly) every piece in the flute's wide and varied repertoire, but if you play on a closed-hole flute, you do not.
Mest populära produkterna