3. The Boehm Flute
The modern Boehm flute has changed little since 1847 when Theobald Boehm (1794-1881) first made his version of the keyed flute. Students of history will be keen to note that he is also responsible for both the modern clarinet and the modern overstrung piano. He was not the first to attempt a new flute design – nor indeed was he the last – but his design has now stood for 160 years, and even in recent times, there has been little interest in bettering it, and surprisingly few attempts. Those who have tried through the ages include Louis Dorus (1860's), Rudall Carte Co. (1860's) Otto Schwedler (1890's) and Alexander Murray (1960's), all of whom have attempted to improve on Boehm's design and construct a flute which presents the player with greater technical capability and a larger dynamic range and tonal spectrum. Some of their instruments are still played, but Boehm's genius has equipped the modern flautist with an innovative instrument design which is both complex and elegant in its construction, yet intuitive and straightforward to play.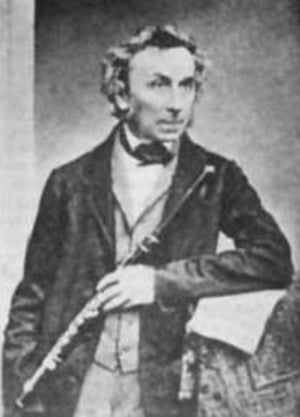 Before Boehm, players had struggled with wide, uncomfortable stretches to cover the tone-holes, coupled with a baffling array of cross-fingerings to achieve the notes in the 3rd octave, and to play accidentals outside the flute's natural key of D major. The small bore (internal diameter) and diminutive tone-holes of the baroque and classical flute limited the potential volume of the instrument, leaving it trailing behind the other wind instruments of the symphony orchestra. Indeed, the composer Josef Haydn would often score the 1st and 2nd flutes playing exactly the same material, just to bring the flute up to the volume of the rest of the woodwind.
Boehm was also responsible for the revolutionary introduction of metal flutes, and although wooden flutes remained prevalent until the early 20th Century, his keywork system brought with it numerous advantages - it lessened the uncomfortable stretches through the use of levers and key extensions, and enlarged both the bore of the flute and the diameter of the tone holes, which had previously been limited to whatever could be covered by the average player's finger. All in all, his changes gave the flute an improved range, considerably enhanced tonal flexibility, and a brighter, more solid sound on an even footing with its orchestral siblings.
Mest populära produkterna