5. Advanced Oboes
A good student oboe should last several years. If the oboe is plastic, it is may be worth switching to a wooden one by Grade 5, primarily because the quality of sound of a wooden instrument is generally superior. Otherwise, the oboe should suffice until Grade 8, when a decision will have to be reached about whether to upgrade, and if so, to what.
Some manufacturers have intermediate models, with a few extra keys for trills and alternative fingerings, costing approximately £2,000. Whether or not it is worth buying one of these depends largely on the ambition of the student. If they hope to progress to diploma level and beyond, an intermediate oboe will really only last them a couple of years, and it would be better to spend a little more and choose a graduate oboe, which are generally priced between £2,500 and £3,000. Graduate oboes tend to have most of the keywork of a fully professional instrument, and are designed to take a student through to Diploma level and beyond. An intermediate model is perhaps a better option in cases where a student has begun learning on a less-than-top-quality instrument, and after passing Grade 4 or 5 or so and showing continued enthusiasm, needs to upgrade, but is not yet ready for a graduate or professional model. A student who has reached Grade 8 and wishes to continue playing but to keep it as a hobby, may find a graduate oboe a good choice, as professional oboes are significantly more expensive.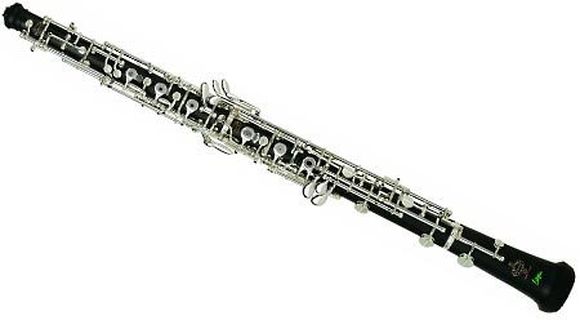 Professional oboes generally cost between £4,000 and £6,000, depending on the manufacturer and the exact model. If at Grade 8 a student is sure that they want to continue, and can afford a professional oboe, then it can be worth going for it straight away as the instrument will last for years. The expense however, is considerable, and for most players, the intermediate options are preferable, especially as by the time a student has finished studying, they may well have a very different idea about what they want from an oboe, and purchasing two top-of-the-range instruments could be considered extravagant!
Professional oboes are all made to an extremely high standard, and it is unlikely that you will find a poor one. Take advantage of trial periods to ensure that you get an instrument that is just right for you, and without any obvious problems. Make sure that every note works easily and is not wildly out of tune, especially G's, which can be difficult. Try the oboe with several reeds - a new oboe may need different ones to your current instrument. The most important thing is that it feels natural and easy to blow, and comfortable to hold and play. Always ask for a second opinion from your teacher or another player.
Professional oboes are sometimes made with different thicknesses of bore (the diameter) and wood in the top joint - thicker ones produce a darker sound but are heavier, so a smaller person may prefer the lighter narrow-bore option. Most players will want to continue with whichever fingering system they've become accustomed to, but there are some 'dual-system' models, combining conservatoire and thumbplate fingerings for maximum flexibility.
By this stage, a student may also be required to play cor anglais in orchestral repertoire. Cors can often be borrowed from teachers or schools, and given the cost (between around £5,000 and £6,000 for a professional instrument), a student generally only needs to own one if they are really serious about playing professionally. Having said that, intermediate cors anglais are available, costing between £2,500 and £3,500, but they are unlikely to be a priority. A new oboe d'amore will also cost between £5,000 and £6,000, and is really only necessary for a professional player.
Mest populära produkterna