6. Reeds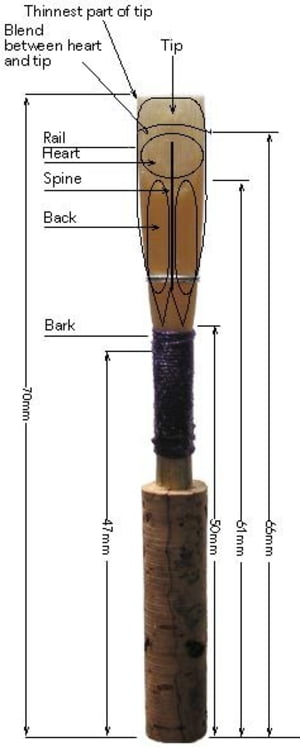 The quality of the reed is just as important as the quality of the instrument in determining the sound and function of an oboe. They are fragile and unpredictable, and while a good reed can make you feel that the oboe is the finest of all instruments, a run of bad ones can make you want to give up on the spot. Some teachers make their own reeds for their students, while others use colleagues whose reeds they like to supply what they need. It's also possible to buy reeds 'off the shelf' from a variety of manufacturers.A reed is made by taking a short strip of bamboo cane, folding it in half and tying it onto a brass staple, then cutting off the tip and scraping each side evenly until the it blows easily. As a general rule, the neater and more symmetrical the reed, the better it should work, though occasionally the most ragged-looking reed produces a great sound for no obvious reason. Each reed is different, and each oboe and each player need slightly different reeds - there is therefore no right and wrong; only personal Preference.
Reeds come in various hardnesses - soft, medium-soft, medium, medium-hard and hard. Soft ones (which have the most cane scraped away) are best for beginners. When trying a reed, always firstly soak it tip down in a small pot of water for a few minutes. When you blow into the reed without making an embouchure it should make a crowing sound, and you can then go on to see how well it works in an oboe. Most reeds come with a small piece of brass wire tied around the neck to adjust the aperture. The shape of the scrape can vary - most European reeds are scraped until halfway to the thread, either in a V or a W shape, and this is generally preferable to the American norm of scraping almost right down to the thread, which needs a different type of embouchure to work well. While a soft reed is easy to blow, it generally produces a harsher sound, and so as soon as the mouth muscles are strong enough, you should progress to slightly harder reeds. It should never be excessively hard work though – if it is, then go back to a softer reed.
Oboe reeds are relatively expensive (between £10 and £15 each, approximately), and they also break easily, so it's essential to keep them in a properly made hard case. The small cardboard boxes packed with cotton wool in which reeds sometimes arrive are not really adequate, and plastic tubes are also not ideal as they don't allow the reed to breathe, and the tip can be damaged easily when removing or replacing the reed. For a beginner, a case with three to six slots will be plenty.
An average reed, carefully looked after, should last several weeks. It may however, require a little care and adjustment along the way. Often, the cane thickens with playing, and so the reed will need further scraping. Teachers usually do this for their students, but should you wish to do it yourself you will need a specially-made reed knife and a small plastic tongue or 'plaque' to insert into the reed as a backing on which to scrape. Barrie Gregson makes very good knives. Reeds can start to leak air through the sides, in which case you can wrap a small piece of clingfilm or PTFE tape around the reed, taking care not to cover the scrape at all.
Mest populära produkterna