4. Integration into the Set
One difficulty with the instruments in question is, that they are sometimes not meant to be played like we do as drummers – with sticks.
What we are adding to our set are most of the time solo instruments that are meant to be played with typical technique. Congas and bongos simply sound different when played with sticks. A cowbell held with the hand can be dampened quite easily and can so be adjusted to the music – without anyone's ear falling off. The same gets a lot trickier when the cowbell is mounted on a drum set. There are special dampening systems to take care of this.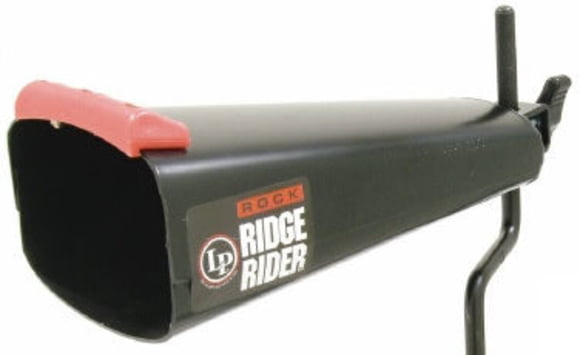 The trick is to integrate percussive elements into the set in a way that allows you to hit them in a way that does them justice – and if we get a decent sound out of them while we do that it is a win win situation.
For beginners I recommend tambourine, Cowbell and groove block. All are relatively small and you can easily find a place for them. The sound of those three are well known in classic grooves. All are available in various sizes and sound variations.
OK – 'have to get percussion percussion – but where do I put it?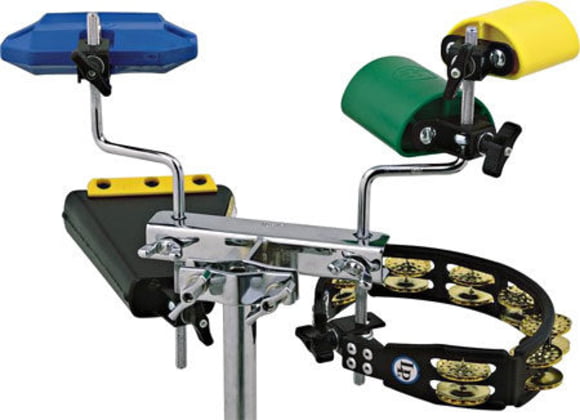 The standard is a 3/8" bar. Hardware manufacturers by now spoil us with multi clamps that leave nothing open to desire. Everything with a 3/8" connection can miraculously appear this way in your set , suspended from a boom stand, bass drum hoop or dedicated percussion stand.

The most favourite location for this is the space just above the hihat and on its left. Many drummers place their bongos and timbales there. Rototoms and octobans are also a familiar view there. For drummers with an open technique this is a prime location for tambourine and groove block. An exotic choice would be a gong drum.
Another option is the bass drum hoop.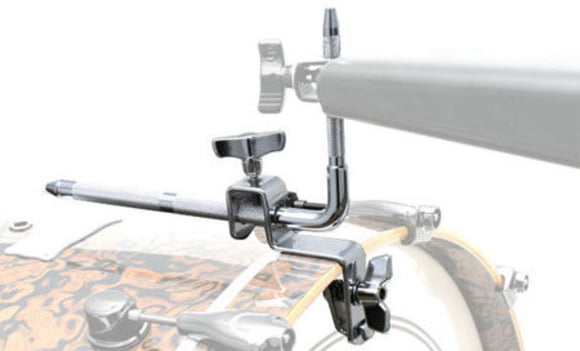 If we take this idea one step further and move the rack toms to the left we are presented with great placing options. The space around a closed hihat is readily expanded with a groove block and tambourine.
In any case – every drummer will find a space – according to his particular setup – where percussive instruments can easily be integrated. Multi clamps are paramount for this.
Mest populära produkterna