3. Percussion Instruments
Back to our standard drum set.
As an advanced drummer you should think about widening your kit with the classic percussion instruments. New sound lend your music more expression. Latin influenced music in particular benefits from inclusion of these instruments.


One possibility is to integrate percussion. And we are looking at those instruments that do not belong into the classic setup.
Examples are: Tambourine, groove blocks, cowbell, chimes cabasa and so on. The countries of origin are foremost Latin America, Cuba and Africa.
By now we are well used to congas, bongos, timbales and rototoms. John Bonham was arguably the most recognizes drummer to integrate orchestral timpani into his set. Other examples are Mike Portnoy and Matt Sorum who both respectively endorse a signature percussion set for drums.
German drummer extraordinaire Benny Greb utilizes bongos with his drums and tells us:
"For me there are two situations in which I use bongos:
simply as a sound alternative when doing studio work
to widen my melodic spectrum in solo shows

Only recently I used bongos for a studio recording and so they simply had to go on tour with me.
… this was for instance the case with the "Stoppok Sensationsstrom" album – and Stoppok insisted on having that sound on tour because it was significant for the song material.
I have to admit – for clinics and solo shows bongos are not indispensable for me – however they are one more lovely sound option to be brought in. All is well if the composer likes it - and the music is good.
A variety of sounds on a standard set is a widely underestimated field. On my DVD "The language of drumming – a system for musical expression" there is besides the systematic and performances a whole chapter about sound creativity. I am looking at how to get more out of the instruments at hand. For example I play the snare with my hands or play cymbals with a whisk achieving really cool sounds this way. In the intro of this DVD I am playing a whole kitchen. Percussion is everywhere – check it out !"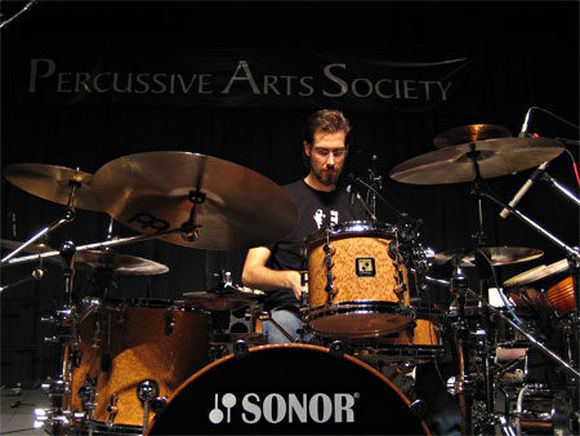 Mest populära produkterna