4. Design & Models
Unlike string instruments, recorders do not age well and tend to deteriorate over time – it's largely due to this fact that few original instruments remain. Recorders made today are designed after originals preserved in museums and based on historical evidence regarding dimensions, materials and pitch.
Recorders come in many different sizes. The main kinds, from small to large, are: sopranino, descant (soprano), treble (alto), tenor and bass. These usually come apart into three pieces, except the sopranino which has only two. The head joint has a characteristically beak-shaped mouthpiece. Larger sizes include great-bass and contra-bass, which are quite rare and mostly found only in large consort set-ups as they do not make good solo instruments. Due to their size, a neck sling is usually required to play comfortably any recorder larger than a tenor. Children commonly begin on the descant recorder, but the next larger size, and most flexible model as far as repertoire is concerned, is the Baroque-style treble.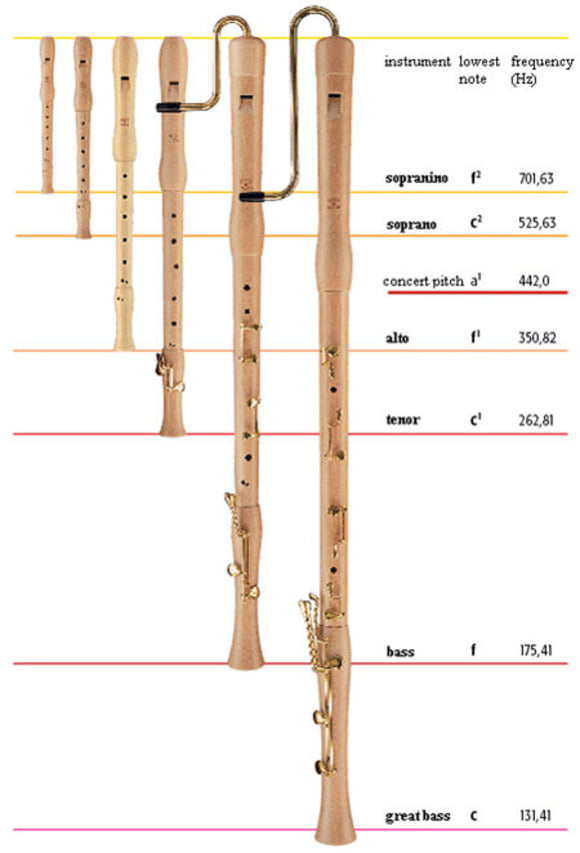 Of the seven holes on the front, numbers six and seven, near the bottom of the instrument, will usually each be split into two smaller holes to enable efficient use of chromatic notes, and on tenors and other larger models there will often be a key mechanism on at least the seventh hole, due to the reach required. Smaller players can find the holes on the tenor recorder too far apart to stretch.
Recorders have a full chromatic range of two octaves, although higher notes than this are possible depending on the instrument and skill of the player. Although recorders are not transposing instruments, the lowest note alternates between C and F according to the size - bass F, tenor C, treble F, descant C and sopranino F, respectively. Players of neighbouring sizes of recorder therefore effectively know two sets of fingering. Descant and sopranino recorders 'transpose' to sound an octave higher than written. All are notated in the treble clef, except the bass, which is notated in the bass clef, and also sounds an octave higher than written.
Mest populära produkterna