Zoom H2n APH-2n Bundle
Acousticband
Ambience
Drumset
Nature
Gongs and Tamtams
Percussion Room-1
Percussion Room-2
Storage Hall
Trucks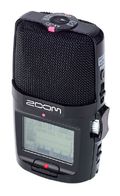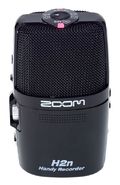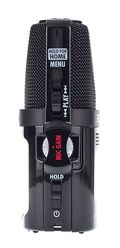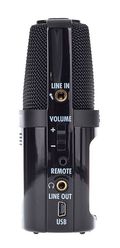 Info

artikelnummer: 270039
Produkten finns i lager och kan levereras omgående.

artikelnummer: 270039
Försäljningsenhet: 1 Styck
tillgänglig sedan: 26.08.2011
Produktdetaljer
Bundle offer comprising
Zoom H2n
Portable WAV / MP3 Recorder
For M/S and surround (2-/4-channel) with five built-in microphone capsules
Up to 24 bit / 96 kHz (WAV) or 320 kB/s (MP3)
Recording media: SD/SDHC cards up to 32 GB
Features: High pass filter, compressor/limiter, metronome, tuner, normaliser, MP3 post encoder, marker, surround mixer, variable playback speed
With LC-Display
Integrated speaker
Connectors: Microphone / line input 3.5 mm, headphone / line output 3.5 mm and USB 2.0 port
Power supply: 2 AA batteries, USB cable or AC adapter (not included)
Includes Wavelab LE and Cubase LE
Matching fur windscreen: Article number #233214# (not included)
Note: SD / SDHC card not included!
Zoom APH-2n
Accessory pack for Zoom H2N Digital recorder
Set includes:
Wired remote control
Extension cable for remote control
Windscreen
USB AC Power Supply
USB cable
Adjustable tripod stand
Padded Case
Mic clip adapter
3x Thomann LR6 AA 4pc
4-Pack AA Batteries 1.5 V (Type LR6)
Alkaline mignon batteries (type AA)
Colour: Black
Package quantity: 4 Pieces
Note on disposal: In line with the Battery Directive (Batteriegesetz; BattG), you as the consumer are obligated to return all batteries and rechargeable batteries. Disposal via normal household waste is not permitted! Batteries containing pollutants can be identified by the symbol of a crossed-out wheeled bin and the chemical symbol (Cd = cadmium; Hg = mercury; Pb = lead) of the metal essential for classification.
Used batteries and rechargeable batteries can be returned free of charge to our shop, to other outlets where batteries are sold or to public waste management authorities.@+
62 Recensioner
Relaterade produkter