3. Body care
For cleaning painted guitar bodies, the accessory industry offers a wide variety of cool products. Liquids and pastes marketed as "polishes" are designed to gently remove dirt and grease, while simultaneously maintaining the paint job. Whether they're meant for cars or guitars, most polishes work by stripping off minimal amounts of the dull top layer of paint, with varying intensity from one product to another. This smoothens the guitar's surface, removes small scratches and restores the paint job to its full gloss. This is usually trouble-free with modern polyurethane varnishes that can hold up to the process easily.
Care should be taken with acoustic guitars or high quality vintage instruments painted with thin nitro lacquers, as those are much more sensitive. In such cases, it is best to work with a cloth and a little bit of soap. Prepare the mixture in a bowl and just barely moisten the cloth, and "barely" should be taken quite literally here. Alternatively, lemon oil can once again be of much use, cleaning and protecting all parts of the guitar equally well.
The general rule of thumb is: Clean the instrument regularly, using a slightly damp cloth or lemon oil, and polish the guitar more thoroughly only every few months. This ensures that you're on the safe side with all types of varnishes.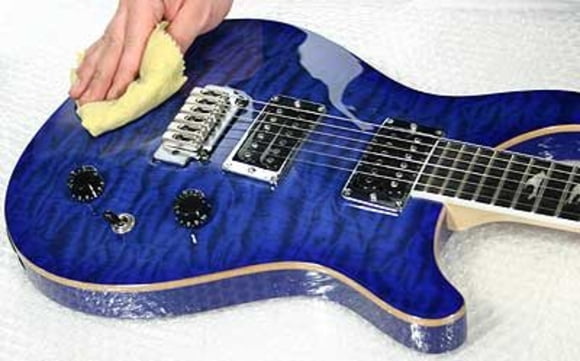 Hint:
Old guitars and replicas of historic instruments finished with nitro lacquers should only be treated with solvent-free products. While most guitar polishes don't contain any aggressive substances, you should still test the product in a hidden spot before the first use. Better safe than sorry!
Polishing cloths are available in many varieties. That's good news, because you probably won't get the same results with any old rag from the toolbox. Rags cut from old t-shirts or underwear are usually laden with dust, which can be especially bothersome with dark coloured instruments. If the rag is too firm, you could end up cutting unattractive grooves into the finish. Now that doesn't sound like a real alternative, does it?