6. Rules
Whether semi-spherical or conical, there are particular rules for both
Semi-spherical or conical, it makes no difference! No, that's not really the case. Why then, do we make a difference between these two cup shapes, and what is it?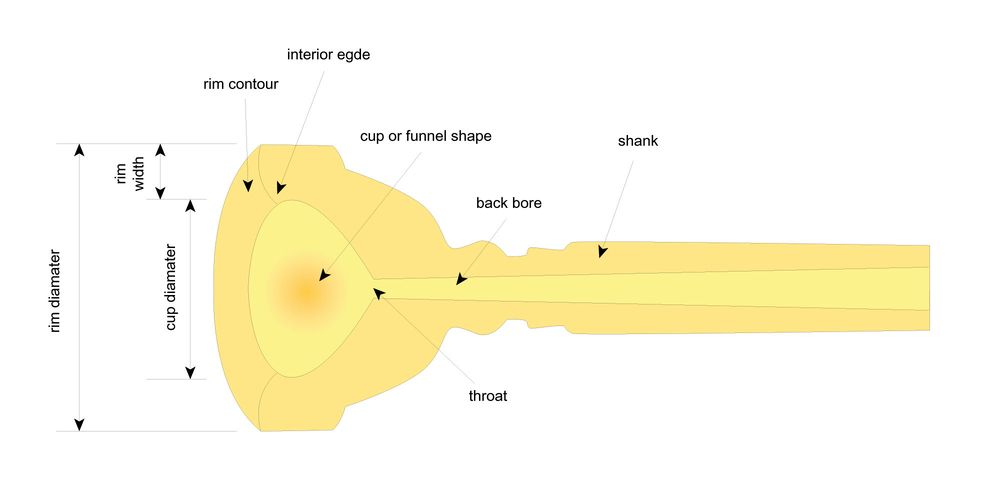 The semi-spherical cup is rounder, more, as the name says, spherical, whereas the conical cup tapers towards the end, as a funnel would do. Mouthpieces with such V-shaped cups produce fewer overtones in comparison to those with semi-spherical cups, and thus generate softer and darker sounds. However, the term semi-spherical has become common for mouthpieces which actually have conical cups, such as flügelhorn or French horn.
Thus, we shall only speak of semp-spherical cups in the following.
Of course there remains a large number of differences relating to form:
| | |
| --- | --- |
| bulbous semi-spherical cup: | shaped like an apple |
| slim semi-spherical cup: | shaped like a pear |
| shallow semi-spherical cup: | about 6mm deep |
| medium semi-spherical cup: | about 9mm deep |
| deep semi-spherical cup: | 10mm-12mm deep |
| narow semi-spherical cup: | 15mm-16mm diameter |
| medium semi-spherical cup: | 16mm-17mm diameter |
| broad semi-spherical cup: | 17.5mm diameter and beyond |
The numbers indicated above relate to trumpet mouthpieces.
For other moutpieces in different sizes, the depths change accordingly. But this selection suffices to show you the variety of and even within models which you, unfortunately, have to try out in order to be able to say:
I have an inkling of the difference.
But what does the cup achieve? Are changes in the shape of the cup also decisive for the sound?
A larger diameter increases the volume of the sound and allows for more precise sound control. This results in a more beautiful sound on the one hand, but on the other it also involves putting greater effort into the sound production.
So if you wish to put less effort into generating the sound, you are best served with a smaller cup diameter. This will require less force to produce sound. However, mouthpieces with a smaller cup diameter restrict the development of the lip muscles. Likewise, there are pros and cons to the different cup depths.
A shallow cup brightens the sound, improves the resistance and facilitates easier playing in the upper ranges. This sounds great at first, and everyone will be inclined to reach for the shallow cup right away. But we have only talked about the upper ranges so far.
What happens in the lower ranges?
The lower sounds are best generated with a mouthpiece with a deep cup. But unfortunatley you can't simply change the mouthpieces in mid-play when you have to move to the upper ranges from the lower.
So you have to find a mouthpiece which is a good solution for you. And the question you must ask yourself in choosing is what type of sound exactly you want the mouthpiece to help you produce. So you should keep certain aspects about cup depth in mind.
In addition to the cup aspects you need to choose a rim, as previously mentioned, and the lip.
There's a menomic that might help you here:
An acute edge produces an acute sound, or, in other words, a brilliant sound.
A rounded edge affords your lips greater mobility. There's no mnemonic for this, but you don't need one if you remember the first one.
Mest populära produkterna