4. Which materials can I even choose among?
Brass or gold brass - it makes no difference, does it?!
The question of your instrument's material is always also a question of price.
But: which materials can I even choose among?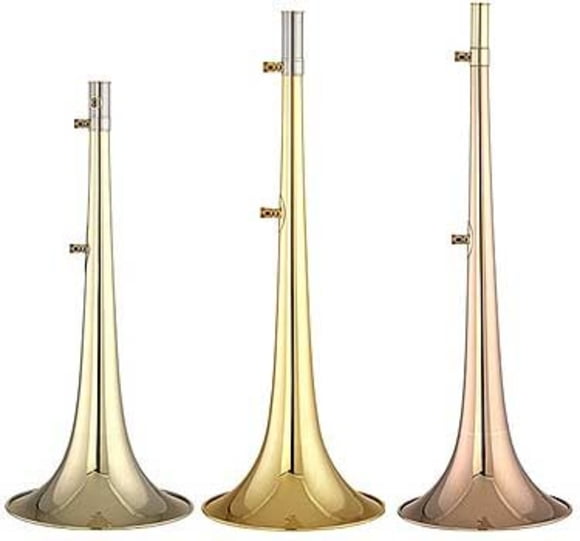 The available variety is not restricted to choosing an instrument made from a sinlge metal, however. A gold brass horn may well, for example, feature nickel silver slides or another material for the lead pipe (but there are no gold brass horns with brass lead pipes). Some manufacturers also put a nickle silver band at the end of their bells. If it's the look you are after, you can simply choose a silver-plated brass horn, with a gold brass lead pipe, for example. There is no limit to the material combinations, and some manufacturers also offer gold-plated components. The most basic metal to choose is varnished brass. Such all-brass models are found most often among beginners' instruments and in the lower price ranges. They may feature non-brass components, such as a nickel silver lead pipe, or nickel silver inner and outer slides. The advantage of a lead pipe made not from brass but a superior material is its improved durability. Brass is not as resistant to corrosion, and the lead pipe in particular is exposed to a great deal of humidity. Going for a superior metal for the slides has a positive effect on your instrument's longevity for the same reason.
The question of material is not only one of your personal taste in colour, but also of timbre. Having said that, it is important to keep in mind that timbre always involves a variety of factors. These range from the choice of bell to the basic material to the thickness of the tube walls and finally to the musician him- or herself. So it is a good idea to try out different instruments made form a variety of materials.
In the final analysis, your personal sound preference are more important than any theoretical elaborations. But keep in mind that even lead pipes made from, for example brass or gold brass make the whole instrument sound different.
Parhaiten arvostellut tuotteet