Look Tiny FX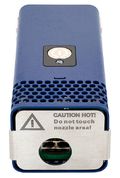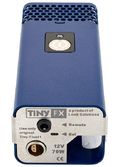 939 €
4 259,87 PLN
zawiera podatek VAT · Darmowa wysyłka
Wysyłka spodziewana do dnia

Środa, 20.01.
Szczegóły

Numer artykułu: 395160
Produkt jest dostępny w magazynie.

Numer artykułu: 395160
Cena za: 1 szt.
Produkt dostępny od: 26.07.2016
Power: 70 W
DMX Control: No
Output direction: horizontal
with timer remote: No
with On/Off cable remote: Yes
with radio / IR - remote: No
with light effect: No
Battery operated: Yes
Incl. Mounting Bracket: No
Ceny w PLN podane są tylko w celach orientacyjnych.
Szczegóły
Battery-Powered Mini Fogger
The latest, further developed version of the successful Tiny series
By installing a smaller, efficient pump, the size and weight of the unit was further reduced
The syringe-shaped fluid container is screwed directly into the device, removing the need for an external fluid tank with fluid tube
Thus the TINY FX consists only of two components: Fog unit and battery
Control via a button integrated into the lid or via the included wired remote control
The device can also be triggered via a wireless remote control (not included) or by a DMX converter via DMX 512
Heating power: 70 W
Power supply: 11.1 V battery
Heating up time: 0.5 s
Fluid tank capacity: 5 ml
Fluid consumption: 2.3 ml/min (continuous output)
Continuous output with included battery: 10 min
Dimensions: Fog unit: 98 x 44 x 34 mm, Battery: 105 x 44 x 41 mm
Weight: Fog unit: 0.18 kg, Battery: 0.2kg
Includes:
Tiny FX
Battery pack 11.1 V
Battery cable
Charger
Cable remote including cable
6 Fluid containers, 5 ml each, screw mount
Refill set
250 ml Tiny-Fluid (Article nr #180095#)
Case
Podobne produkty