3. History – Origin & Development
Playing the recorder, also known as the 'flauto dolce', 'blockflöte' and 'flûte à bec', was traditionally a rather social occupation. Thought to have originated in 14th Century Italy, it existed mainly as a consort instrument during the Renaissance period (c.1400-1600). Henry VIII owned over 70 recorders, most likely made specifically for playing in consorts. As well as 'true' instrumental music, it was common to play vocal consort music on recorders. The Renaissance design had a wide and straight central bore, with large fingerholes and a bell-shaped end.
During the Baroque period (c.1600-1750) the recorder came to be used more as a solo instrument, its design changing to a tapered bore narrowing towards the bottom, along with smaller fingerholes. Boxwood was the prevailing material for both Renaissance and Baroque recorders, although other woods were also used. By this time it was more common for music to be written specifically for the instrument, and in addition to concertos and solo sonatas, the recorder began to appear in mixed ensemble chamber music. Its closest counterparts were the transverse (wooden) flute and Baroque oboe, and players often 'doubled' or 'trebled' on these instruments.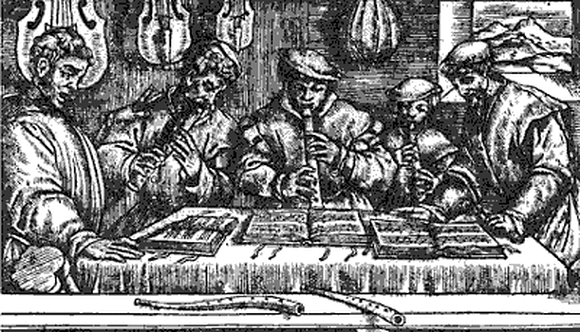 Some of the most challenging recorder works were written during this time, notably two of Bach's 'Brandenburg Concerti', and also Vivaldi's solo recorder concertos. Confusion has arisen over the recorder's use in certain large-scale Baroque music – Handel's 'Water Music' and Purcell's operatic works for instance, since it was referred to simply as 'flauta'; however, where a Baroque flute was intended rather than a recorder, 'flauto traverso' would usually be specified. 'Flautino' is also frequently indicated, which should be translated as sopranino recorder.
The rise of the transverse flute during the 18th Century largely superseded the recorder's use, especially during the Classical period, c.1760 onwards. As both time and instrument design progressed further towards the symphony orchestra, the recorder all but disappeared. It then lay dormant until experiencing a 20th Century revival, especially in England and Germany, which is when its teaching in school classrooms began. Since then, many respectable composers have written for it, including Gordon Jacob, Benjamin Britten and Luciano Berio. Many present-day recorder players are also flautists or oboists - very few make a career out of performing solely on the recorder.
Parhaiten arvostellut tuotteet